Investor Relations
Jack Henry & Associates (Nasdaq: JKHY) has been a publicly traded company since 1985. Since our initial public offering, our focused management, proven business strategy, extensive and expanding product offering, dedicated associates, and satisfied and loyal client base have enabled us to generate a strong financial performance and superior shareholder returns.
4:38 PM EDT on Jun 25, 2019
Copyright West LLC. Minimum 15 minutes delayed.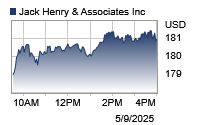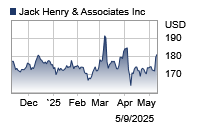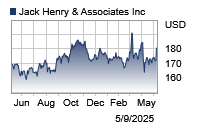 Events & Presentations
May 6, 2019 at 3:00 PM EDT
May 1, 2019 at 8:45 AM EDT